Should You Tint Your Windows?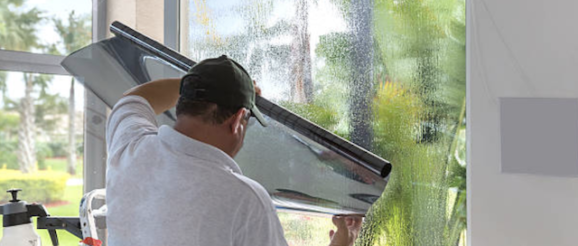 Window tint, also called window film, is a thin, self-adhesive product that can be placed on the inside of residential windows for a variety of purposes. Some of the most common reasons customers choose window film include the following: 
Energy efficiency

Strength

Appearance

Cost 
Window tint may be the perfect solution for homeowners or renters who want to make an upgrade without the major expense and hassle of window replacement. It is easy to install if you want a simple DIY project, but you can also hire a professional window cleaning company to install window tint for you. Either way, your window tint can be completely installed in a weekend or less. 
Having the option to install window tint gives you so many options for home safety and curb appeal, it's no wonder that this home trend is gaining popularity. 
Types of Home Window Tint 
First, it's important to clarify your desire for window tint. The purpose you want the tint to serve will greatly affect which type you choose.  
The most common types of window film are made of Polyethylene terephthalate, the same polyester used to make water bottles. These films come in large rolls that can be cut to the custom size of your windows. 
That's where the similarities end. There are three types to know about before making your decision, each one with clear advantages over the others. 
Let's take a look at each one.  
Decorative Window Tint
Key features: 
Main purpose: Improve appearance

Thinnest 

The largest range of styles and designs
Decorative window film is a great choice if you are undecided about a window treatment or like the idea of changing up the look of a room often. It is considered a temporary option, so it can be peeled off at any time without damaging the glass beneath. 
Decorative film comes in countless patterns, including beautiful stained glass styles, frosted finishes, and geometrical designs that can accentuate the style of any room. 
This type of window tint is great if you need to add an element of privacy to a room or block the view from one room to another.  
Decorative styles of window film are not great on efficiency, nor do they add much security to your home (other than making windows opaque for privacy). 
Solar Window Tint
Key features: 
Main purpose: Energy efficiency 

Medium thickness

Neutral colors
Solar window tint is the most energy efficient residential window tint you can buy. It is specially designed to absorb and reflect up to 99% of UV rays so they can't enter your home. 
This has several benefits. First, it reduces glare while watching television, cooking, or reading so your family can spend time together in any room, any time of day. 
Second, it keeps the temperature within your home more consistent, lowering your energy costs and keeping everyone more comfortable. 
Finally, solar window tint prevents fading of upholstery and carpet while simultaneously protecting your family from harmful UV rays. 
Security Window Tint
Key features: 
Main purpose: Strength 

Thickest

Clear or silver
Security window tint is the thickest type of residential window tint because it is designed to be an added barrier between the outside world and everything you hold dear. 
This type of film offers protection against a hard blow, so whether it's bad weather blowing limbs, hail, or other debris, or something more sinister, like an attempted burglary, security film will help protect your home. It could be the difference between life and death, give you an extra few seconds to save your family. 
If your window does get hit by a falling limb, a rock thrown from a lawn mower, or a stray baseball, this film is designed to prevent it from shattering. This is a major benefit because it means you won't be cleaning up shards of glass from carpet or hardwood floors for days to come. 
Security window tint is not necessarily the best for privacy, but that also depends on the color that you choose. Silver security tint is somewhat reflective and will prevent anyone from seeing inside your home. 
This type of film is also not especially preventative against UV rays. It may block some of the bright sunlight, but it is usually not dually qualified as both security and solar film. 
Pros and Cons of Residential Window Tinting
Weigh the pros and cons carefully before deciding if window tinting is right for your home. 
Pros of Window Tinting
Window film improves the efficiency of your windows at a fraction of the cost. If you plan to cover your windows with tint once they are installed, you can go with a less expensive window. When covered with an affordable window film, you will end up with windows that are just as energy efficient as pricier options. 
Covering windows with film offers a unique alternative to window treatments. Not every homeowner is in love with the idea of curtains or blinds, but for privacy and sun protection, there haven't been any other options in the past. Now, homeowners can opt for a minimalist window design using window tint without missing out on any of the benefits of traditional window treatments. 
Window film installation is easy enough that many homeowners choose to do the installation themselves, saving even more money. Of course, there are many companies that provide professional installation services. 
Cons of Window Tinting
Window tint can damage windows by putting too much thermal stress on the panes. Most windows can handle the extra heat absorption placed on them by window film, but you need to thoroughly check the manufacturer's directives and cross reference with the International Window Film Association to prevent damage to your windows.  
Window film may invalidate your warranty. In many cases, window manufacturers refuse to pay for damages caused during or after application. If your windows are older and out of warranty anyway, there is no downside. 
Application technique takes time to learn. Applying window tint yourself could result in bubbles, dirt and scratches that are visible from the inside and outside. Even professional installation won't be flawless, especially on older windows.